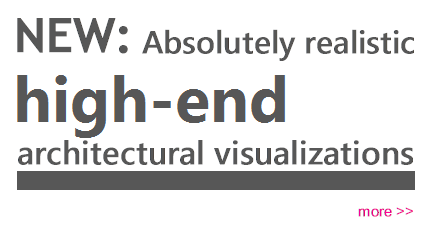 "THE EYE IS FASTER THAN MIND"


HIGH-END DESIGN FOR ALL CORPORATE DIVISIONS
Factual arguments have a hard time against the subtle insights of preliminary assessments. The importance of the unconscious in the interpretation of the gigantic flood of perception is undoubted. Therefore we all tend to
immediately
attest "beauty" the property of the "better". In the area of Corporate Communications this is particularly obvious.

Each of your
communicated
elements carries individual, subliminal messages. The better you are able to transmit positive from the outset, the better your chances are to achieve your goals. Use this key possibilities of a sophisticated, distinguished line of communication and present yourself from your very best side. We can help you to synchronize your visual content with your company's quality standards.

Our copyright protected visualization is used illegally - worldwide!

Wolfgang Karner's software architecture image - an object of desire

Lately we found

more and more illegal copies and brazen plagiarism

of Wolfgang Karner's visualizations in the internet and other media. The focus of the illegal activities is placed at the acclaimed "software architecture" image . Although it is entirely positive when a creative's work is appreciated, but it can not be accepted that companies, universities and individuals simply steal someones intellectual property and using it for their own business purposes. Therefore we are currently taking legal actions against these copyright violations. The hotspots of this illegal activities are Southern Europe - e. g. an Italian software company and Central and South America, from Mexico down to Chile.